The World's Largest Gantry Crane - Taisun
Wire Ropes and Pulley Blocks for Taisun
The World's Largest Floating Crane
- Blue Whale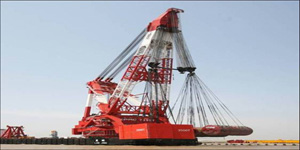 Forged Steel Wire Rope Slings and Shackles
Beijing National Stadium for 2008 Olympic Games (Bird's Nest)
Riggings for Construction of Bird's Nest
Shenzhen Convention & Exhibition Center
Steel Tie Rods
Changshou Cable-Stayed Bridge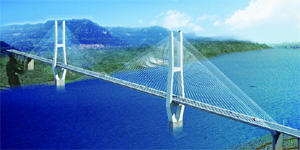 Cables for Construction of Bridge
Taisun, the world's largest gantry crane, with an unprecedented lifting capacity of 20,000 tonnes
The crane, capable of muscling up to 10,000 Mercedes Benz cars in one lift, allows the mating of an entire outfitted deck box of a semi-submersible rig onto its hull/pontoons in one single operation. This reduces work hazards at high altitudes and in the open sea. The lifting of the complete deck box reduces man-hours by as much as half.
The following brand products are part of Taisun's key components

Wire ropes



Construction: 8×36WS+IWR



Diameter: 50 mm



Pulley Blocks



Amount of units: 96



Load per unit: 420 tonnes



Blue Whale, the world's largest self-propelled, floating and fully-revolving crane, with an impressive lifting capacity of 7,500 tonnes
"The new crane may reinforce the offshore platform and play an important role in oil-gas field exploration," said China Offshore Oil Engineering Co Ltd (COOEC), the owner of the jumbo floating crane.
The following brand products are part of Blue Whale's key components

Forged steel wire rope slings



Diameter: 110 mm



High-strength shackles



Load per shackle: 150 tonnes
Beijing National Stadium for 2008 Olympic Games (Bird's Nest)
This stadium was used throughout the 2008 Summer Olympics and Paralympics. This US$423 million stadium is the world's largest steel structure.









The following brand products are part of Bird's Nest's key components

Roof safety and security system



Consisting of forging slings

Amount of slings: 464

Adjusting devices and shock-absorbing devices



All riggings for construction

Shenzhen Convention & Exhibition Center
The Shenzhen Convention & Exhibition Center covers over 22,000 square meters. The building stands up to 60 meters, including 6 floors above the ground level and 2 floors beneath it. It has 25 meeting rooms and a hall to accommodate about 3,000 people.







The following brand products are part of Shenzhen Convention & Exhibition Center's key components

Steel tie rods with high-strength



Diameter: 55 mm to 150 mm

Intension grades: 460 to 550

Total weight of steel tie rods used: 2800 tonnes




Changshou Cable-Stayed Bridge
The Changshou bridge is a cable-stayed bridge that spans China's Yangtze River, with spans of 207, 460 and 207 meters.


The following brand products are part of Changshou Cable-Stayed Bridge's key components

φ7 ×139

φ7 ×163

φ7 ×199

φ7 ×241

φ7 ×283